If you've traveled overseas for a short business trip or taken a long-awaited vacation, you've probably heard of data roaming. Whether due to unexpected charges on your phone bill or a fast Internet connection during your trip, data roaming is important for domestic or international travelers.
Stay connected with the best Travel eSIM

So, what does it mean when your data is roaming?
Data roaming is necessary when you need access to day-to-day services, such as texting, calling, or data during travel to an area outside your primary network coverage. It comes in handy when you want to catch up with your loved ones, send that urgent email, or share some fun pictures with friends.
Let's explore the basics of data roaming, including how it works and why you might need it.
An Overview of Data Roaming
What is data roaming? Put simply, data roaming refers to the cellular coverage you receive outside your primary cell phone network when traveling abroad. When you're local and within the network coverage provided by your cell phone carrier, you can text, call, or access data on this network at no extra charge.
However, when you are located outside this network (like during overseas travel), you will likely rely on a secondary network to access these services. That's where data roaming comes in.
With data roaming, you can access text, calls, apps, the internet, or other data services when connected to a foreign network, just as you do back home on your primary cellular network.
When data roaming is active during travel, your cell phone automatically chooses a network to which it connects. The specific network will depend on the roaming agreements between your primary cell phone service provider and other networks in that area. These carrier networks then offer you text, call, or data services on behalf of your cell phone carrier.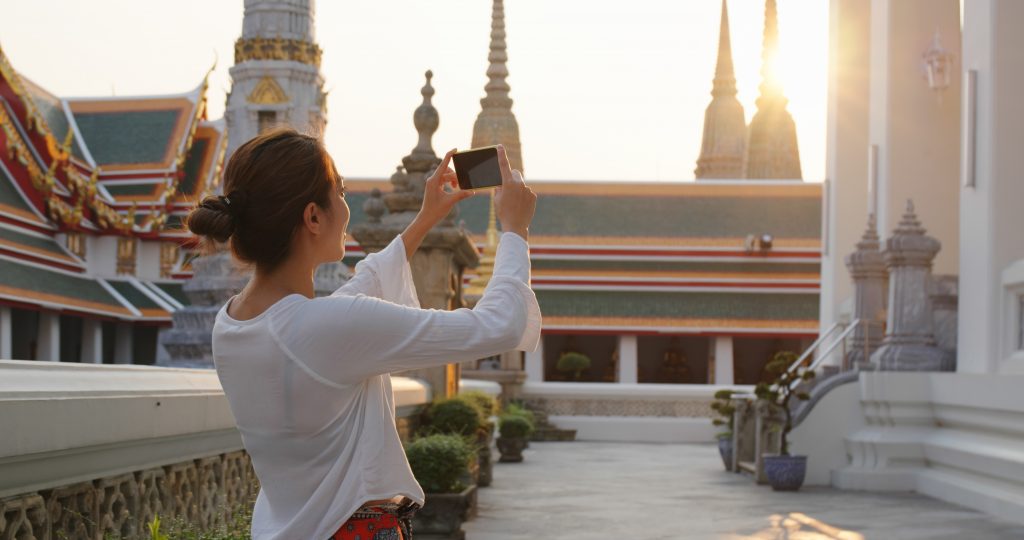 Domestic vs. International Roaming
Although data roaming provides coverage outside of your primary cellular network, the exact type of coverage will differ for domestic vs. international roaming—and will likely depend on your cell phone carrier's coverage boundaries.
Domestic roaming means that your travel destination is within an area considered "domestic" relative to your primary cellular coverage. On the other hand, using cellular services at a destination considered "international" will qualify for international roaming.
For instance, some cell phone carriers in the United States consider roaming while traveling to Puerto Rico and the US Virgin Islands as domestic roaming. But, these carriers can also define domestic roaming as connecting to a network outside their coverage when you lose service.
In the European Union (EU), cellular carriers are not allowed to charge customers extra if they roam while traveling domestically in other EU countries. As such, travelers who get their primary coverage through a European cellular carrier will only roam domestically regardless of which EU region they travel to.
How Much Does Data Roaming Cost?
As you embark on your travels, know that data roaming typically comes at an extra cost on top of your regular monthly cell phone bill. The exact cost depends on your phone carrier. The pricing for these data roaming plans works similarly to the text, call, and data plans your service provider offers and may vary based on anticipated monthly usage.
If you call or text a lot throughout the day, you'll likely benefit from a cell phone plan that includes unlimited text and calling or one offering a high limit for calls and texts before you incur extra data roaming charges.
Compared to the costs of regular cell phone services, data roaming charges tend to be on the higher end. You can expect anywhere from:
$0.25 per minute for calls
$0.10 per text message
$2 to $5 for each MB of data you use
The cost of data roaming will also look different for someone who goes on vacation once a year than for a frequent traveler who roams more often.
Do I Want Data Roaming To Be On Or Off?
Choosing whether to leave data roaming on or off will depend on how often you travel and your network coverage needs during travel.
When your phone's data roaming function is switched on, it automatically searches for a network connection upon detecting that you are outside your primary carrier's network coverage. Once your phone is connected to a roaming network, each text message or phone call you receive will be considered a data roaming charge. The same applies to each MB of data you send or receive when checking your email or uploading media to the Internet.
If you typically have decent network coverage and don't travel often, then it's better to leave roaming off. But, if you travel frequently and are concerned about forgetting to turn on your roaming, you can leave it on so you can immediately receive texts or emails upon arrival at your destination. This can be helpful for work travelers who want to minimize communication interruptions during transit.
Top Features to Look For in a Data Roaming Plan
So, what should you look for in a data roaming plan?
Ultimately, a convenient and flexible data roaming plan can make your travel experience less stressful as they help keep you connected. The last thing you'd want is a slow internet connection when searching for your airport transfer details after a long, tiring flight.
Let's cover some of the crucial features to look out for when shopping for data roaming plans.
#1 Wide Connectivity Coverage
During domestic or international travel, network coverage can determine the overall quality of your roaming connection. Although you're likely to find strong network coverage in a large city, it might be poorer in more remote, off-the-grid areas. Unfortunately, not all cellular carriers have roaming agreements with networks in remote areas.
Additionally, many wireless networks across the world still use technologies like 2G and 3G and have not adapted to more recent ones like 4G LTE and 5G. As such, you might be limited to using a 2G network connection in some regions of the world, whereas others might fully support a 5G connection.
Finding a data roaming carrier that connects to hundreds of networks will increase your chances of a high-quality connection during international travel.
#2 Pricing and Flexibility
The pricing structure of a data roaming plan will also determine how best it meets your travel needs. Although many providers offer pay-as-you-go roaming packages, these are more likely to be costly down the line. A tiered plan works best for data roaming as it caters to any travel situation.
For instance, if you plan to go on a hiking trip where you'll be checking emails once every few days, you're better off looking at a less expensive, data-light plan providing anywhere from one to 10GB of data. But, a family trip with the kids might involve streaming videos for travel entertainment, making an unlimited data plan the preferred option.
Here, flexibility matters. If you decide to use more data than you anticipated, the best plans let you add more data to a plan hassle-free.
#3 Internet Speed
Whether you're traveling for business, vacation, or otherwise, a speedy Internet connection outside your hotel's Wi-Fi can improve your travel experience. Specifically, fast download speeds and low latency contribute to the quality of your network connection.
With Maya Mobile, you'll experience 5G download speeds as high as 100Mbps and Internet latency as low as 20ms. These speeds will keep you connected to social media apps and even comfortably attend Zoom meetings uninterrupted.
It's also helpful to understand how your device will function when roaming. Although most smartphones can connect to global networks without issues, it helps to know which networks your device will be compatible with.
Luckily, Maya Mobile provides various data roaming plans for unlocked Android and iPhone devices.
Fast, Flexible, and Convenient Roaming with Maya Mobile
If you're a tech-savvy traveler looking for a reliable data roaming plan, Maya Mobile keeps you covered and connected with an eSIM data plan. As a wireless provider enabling on-demand mobile data plans, we enable users to activate their favorite roaming plans without the hassle of a SIM card.
Activation of Maya Mobile's data roaming plans is simple and takes as little as 5 minutes. It all starts with installing a Travel eSIM on your compatible phone, after which you can roam with the same coverage quality you enjoy at home.
There are many benefits of an eSIM through Maya Mobile when it comes to travel. With Maya Mobile, you can access fast 4G/LTE and 5G mobile data on preferred networks in every country. Our data roaming plans connect to over 400 networks globally, making it easy to stay connected while traveling, regardless of your destination. Maya eSIM plans are also secured with end-to-end encryption, giving you more data security and peace of mind when connecting to networks in different countries.
For travelers who prefer to use Maya Mobile's Unlimited Data Plans, there's no need to worry about daily data caps and a "fair use policy." Instead, you can use the unlimited 5Mbps until you reach 30GB. If you hit the 30GB within 30 days, you can continue to use unlimited data, albeit at 1Mbps.
To learn more about our flexible, secure, and comprehensive data roaming plans, check out how Maya Mobile's eSIM works.
Sources:
CTIA. How RoamingWorks. https://www.ctia.org/how-roaming-works
European Commission. The History of Roaming. https://digital-strategy.ec.europa.eu/en/policies/roaming-history
How-To Geek. What Is Data Roaming, and How Can You Avoid Paying for It? https://www.howtogeek.com/812129/what-is-data-roaming-and-how-can-you-avoid-paying-for-it/
Reviews.org. What Is Data Roaming? https://www.reviews.org/mobile/what-is-data-roaming/
Verizon. Domestic roaming FAQs. https://www.verizon.com/support/domestic-roaming-faqs/#:~:text=What%20is%20domestic%20roaming%3F,to%20our%20International%20Travel%20FAQs.