SIM cards will soon join the list of outdated media alongside CDs, 33mm film, and cassettes. Traditional SIM cards are easy to lose and cumbersome to maintain. In their place, eSIMs are rising in popularity—and solving all those problems.
Stay connected with the best Travel eSIM

Embedded SIM (eSIM) provides a mobile data-storage alternative that can either be used instead of or alongside SIM cards.
eSIM chips are available on several cell phone models, not only as a replacement to physical SIM cards but as an entry to add-on services. So how does eSIM work, and is it an option for you? Let's take a closer look.
What Is an eSIM?
The eSIM technology has actually been around since 2012 and entered the smartphone market as a feature included alongside SIM card use. The first eSIM card-only phone came with the 2019 Motorola Razr, followed in 2022 by Apple's iPhone 14., The latter helps illustrate the trend moving away from traditional SIM cards.
Cell phones use a subscriber identity module (SIM) card to establish identity, account, and phone number. Traditionally, cell phone users can remove their SIM card from one phone and place it in another to plug their mobile number and account into a new device.
An eSIM removes that legwork. An eSIM is a virtual version that replaces the need for a physical SIM card when used with a device that contains an eSIM chip.
Similar to the NFC chip in your phone that allows payment tech like Google and Apple Pay, eSIM relies on a small chip built into your mobile device. The technology is backed by the Global System for Mobile Communications (GSMA), a nonprofit industry organization that promotes innovation and represents the interests of worldwide mobile network users.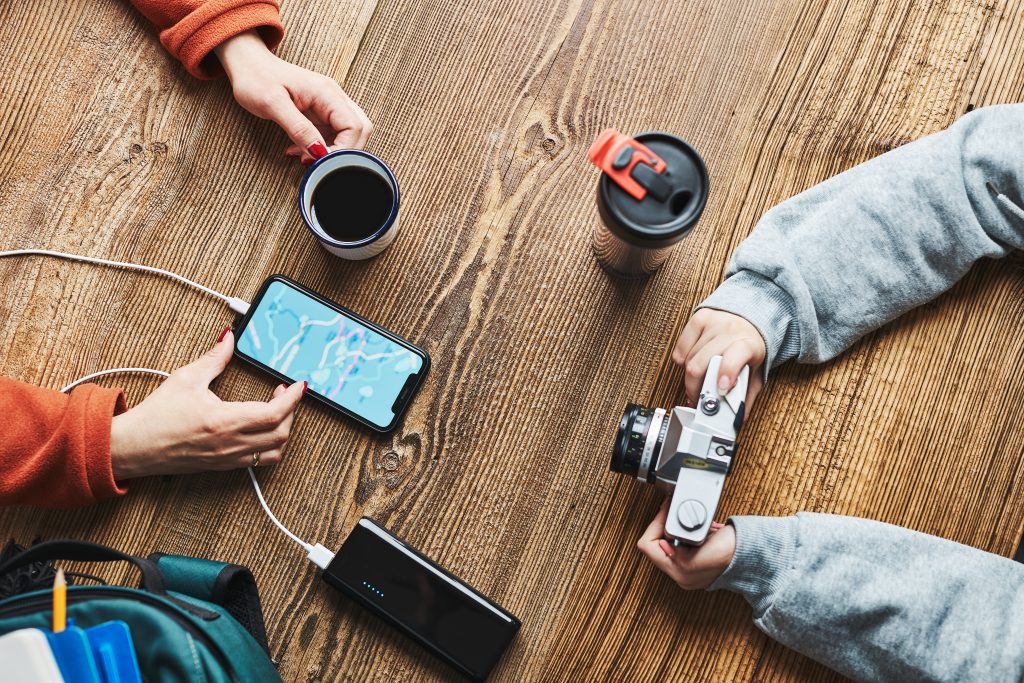 How Do eSIMs Work?
So exactly how do eSIMs work? Unlike a traditional SIM card, the information carried on the eSIM chip is rewritable. Changing or adding a carrier via eSIM can be done automatically via the new carrier's app, a QR code, or entering a manual activation code in the phone settings.
In addition to a switch from a physical card, the biggest difference you'll experience using a roaming eSIM is the ability to engage more than a single mobile network or carrier. eSIM quick transfer ability is also another exciting feature. If you've upgraded to a new phone, for instance, eSIM quick transfer allows you to transfer your existing cellular plan to your new device.
Furthermore, one of the many benefits of eSIM cards is that they can store multiple accounts at the same time. Depending on the device, you may be able to store up to five, eight, or even ten profiles.
In practice, you'll typically be able to activate and use up to two eSIM data plans on your cell phone screen. For instance, you could enable incoming calls and SMS texts for a business line secondary to your personal number. Your outgoing calls and messages will default to your personal line unless you're replying to a business call or message or you opt into your business profile.
Another popular approach is to utilize eSIM to add a secondary profile set to a foreign country's local data to use for reliable communication while traveling.
What Do You Need to Install an eSIM?
Based on current trends, it's likely most devices will be eSIM-enabled in the future. As of today, some have adopted eSIM functionality, but you will most likely need:
A mobile device with an eSIM chip (whether or not it also has a regular SIM card slot) that is unlocked and free of carrier restrictions
A carrier or service provider that accepts eSIM technology (keep in mind that not all do)
If you're wondering about how to check eSIM compatibility, mobile phones that support installation through online eSIM activation include models like:
Apple iPhone X and later, including iPhone 14
Samsung Galaxy S20 and later
Google Pixel
Huawei
Motorola Razr
Microsoft Surface
What Are the Benefits of Using an eSIM?
Even for late adopters of mobile device technology, the benefits of adding or switching to eSIM outweigh the small learning curve. With eSIM, you can:
Simplify the process of switching devices
Have plans and services from multiple networks/providers on a single phone
Access multiple phone numbers through a single device
Easily add international roaming or foreign country data plans to your device
The evolution from physical SIM cards to virtual eSIMs can also help pave the way to additional technological advances. Physical SIM cards take up space in a mobile phone—space that can be used for larger, more powerful batteries, screen sizes, or other innovative functionalities. Plus, when users aren't forced to buy continuous physical SIM cards, they could save money in the long run.
eSIM for International Travel and More from Maya Mobile
Heading out of the country for business or pleasure this year? Consider an on-demand data plan from Maya Mobile. We're a US-based provider using eSIM technology to deliver secure mobile data plans to travelers and remote workers worldwide.
No need to swap devices or phone numbers; you can add an eSIM plan to use for data only, and avoid high roaming fees from your primary line. Setup is as easy as scanning a QR code after selecting a plan based on your travel destinations. If your itinerary changes, you can add new locations at any time.
We offer the best connection quality and pricing in every destination based on aggregating connectivity from 400+ networks globally. When you install Maya eSIM plans, you automatically connect to the best network available.
Make the switch to simpler mobility and get in touch with our team about starting an eSIM plan today.
Sources:
IoT For All. The History of eSIM: Then, Now & in the Future. https://www.iotforall.com/esim-from-then-to-now-and-to-the-future
Android Authority. What is an eSIM and how does it work? https://www.androidauthority.com/esim-914052/
Pocket-lint. What is an eSIM and what does it mean for your new phone or Apple Watch? https://www.pocket-lint.com/what-is-an-esim-and-how-will-it-change-connected-devices-for-the-better/