Staying connected with family, friends, or coworkers when traveling internationally may seem challenging when you have to roam. There are several data roaming plans on the market, and you may be wondering which to choose for your next family vacation, solo adventure, or business trip.
Stay connected with the best Travel eSIM

Then, there are prepaid phone plans. These plans are some of the most popular options to help you remain connected during travel, especially when you're unsure how much talk, text, or data you'll need.
So, what is a prepaid phone plan, and how does it work? Our guide will cover what you need to know about these plans and help you find one that best meets your travel needs.
How Does a Prepaid Phone Plan Work?
As the name suggests, a prepaid cell phone plan allows you to load a certain balance for the text, call, or data services you'll need for a temporary amount of time, like traveling. These cellular plans are popular because they are fairly convenient for the average traveler.
Unlike postpaid plans, prepaid plans are more flexible and give travelers more options when choosing which services they need during their travel. On a postpaid plan, you get what you get—meaning you could run out of data halfway through your trip with no means to upgrade for the remainder of the time. Prepaid plans solve this problem before it starts.
What's more, with postpaid plans offered by major cell phone carriers, users purchase text, call, or data services on a contract, which could be anywhere from six months to two years from the initial purchase. So in a sense, these contract plans lock customers in for specific durations.
However, prepaid plans typically cater to customers who prefer to pay for only certain lengths of network service, especially when they don't anticipate staying on a cell phone plan in the long term. The added flexibility makes them great options for connectivity during travel.
Say you're traveling from the United States to Europe for several weeks, and your trip will involve various outdoor activities. You will most likely need call, text, and data service throughout your stay to connect with family or friends back home.
But, you will also probably need to communicate with various people at your destination, whether it's liaising about your airport transfer, planned excursions, or simply reaching out to existing connections at your destination.
Instead of purchasing an entirely new phone plan, which may involve a credit check or other lengthy process, you can simply purchase a prepaid phone plan.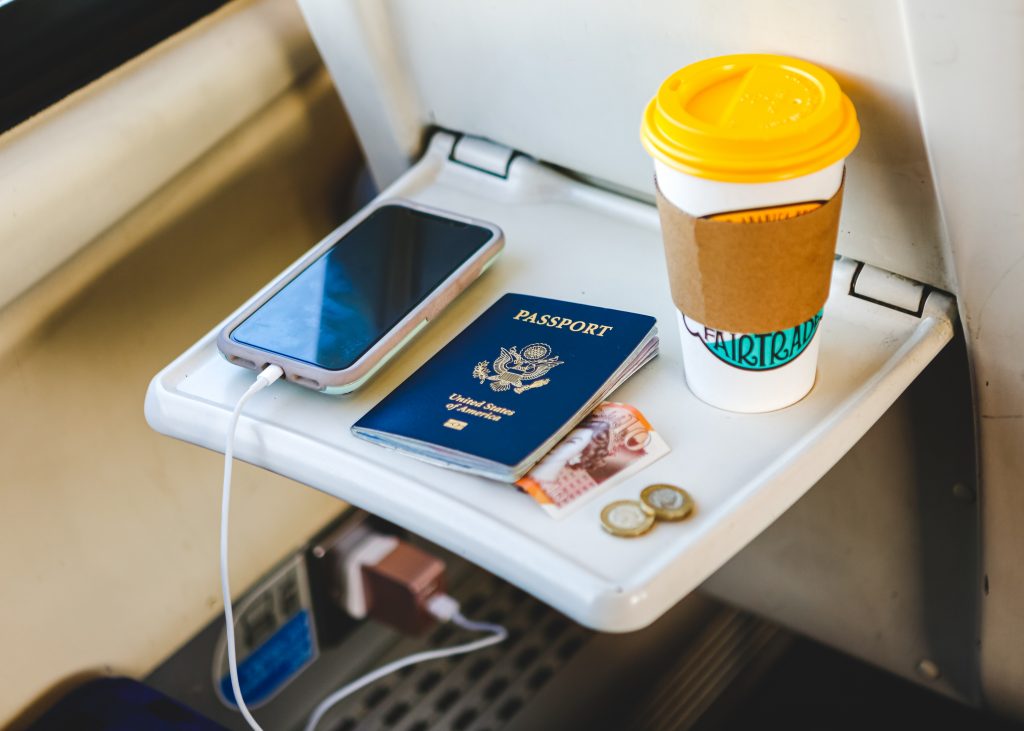 What Is the Difference Between Prepaid Phone Plans and Roaming?
Understanding what is data roaming can help you better grasp the idea behind a prepaid cell phone plan. With data roaming, you use your primary cell phone plan to access text, call, or data services during travel to a destination outside your carrier's coverage. Unlike prepaid phone plans, where you can purchase as much or as little of each call, text, or data service as you need, most roaming plans are pay-as-you-go.
Your primary phone carrier will let you use your phone normally at your travel destination, but you'll be charged during your next billing cycle. With such roaming plans, it's challenging to anticipate how much data you'll use, which can make roaming unpredictably costly.
However, some roaming plans function as prepaid phone plans. Here, you can purchase specific data allocations that match your usage needs. For example, if you anticipate low data usage throughout your trip, you can opt for a roaming plan that provides less than 10GB of data. But you can also pay for unlimited data roaming, providing much more data during travel.
Top Features of a Prepaid Phone Plan
So what features should you look for in a prepaid phone plan?
It all comes down to your preferences during travel. For some travelers, cost savings matter most whereas convenience and speed are more important to others.
Let's explore the top features of a prepaid phone plan.
Pricing Model
On average, prepaid plans are cheaper during travel than postpaid plans or even roaming on your primary cellphone plan. One of the main drivers for the cost differences is that you can choose whichever services you'd like to use in an a la carte style rather than paying for bundled services on a postpaid plan.
For instance, if you anticipate using only text and data during your trip but not calls, you can shop for just these options with a prepaid plan. Likewise, if you don't need unlimited texts, calls, or data, it's easier to opt for an a la carte prepaid plan.
The best travel prepaid plans provide increased flexibility in their pricing models, enabling travelers with different needs to pay only for what they need.
Flexibility
It only makes sense that a prepaid travel plan is flexible because different types of travelers will most likely have varying needs. A family on a week-long vacation will likely have different text, call, or data requirements than a business traveler who spends only a few days going back and forth between the conference center, the hotel restaurant, and their room.
What is prepaid phone plan flexibility? Prepaid phone plans that provide flexibility enable travelers to conveniently pick the most appropriate services before and throughout travel, adjusting them as needed without losing connectivity.
No Pre-Purchase Checks
Another benefit of prepaid plans for travel is that most of them don't require customers to undergo credit checks before they can purchase cellular service. Since customers pay for the exact services they need upfront, prepaid phone plans can be used by any traveler.
For instance, teenagers currently on their parents' phone plans can easily purchase prepaid plans to remain connected during their school trips overseas without having to run their credit.
No Overage Fees
One of the drawbacks of roaming on your primary postpaid plan is that you may end up paying overage fees for any additional amount of service you use. For example, some plans will charge you for exceeding a 5GB data allocation by even 1MB of data. Likewise, any minute spent calling over your allotted minutes will result in a per-minute charge, along with a fee.
However, prepaid plans simply shut off service once you hit your text, call, or data limits. Although these limits disrupt your service, they ultimately save you from paying additional, unanticipated charges down the line.
International Coverage
When looking for a prepaid plan, you should ensure it will provide the connectivity you need in your planned travel destinations, especially if you're traveling abroad. Some prepaid phone plans have limited coverage in some international regions and can interrupt connectivity if your travel plans span different continents.
Even with global coverage, some networks do not effectively reach remote areas. When researching prepaid phone plans, it helps to verify if these plans connect to a range of local cellular networks at your destination so you don't pay upfront for services you don't end up using.
Why Should You Travel with a Prepaid Plan?
You may be wondering if it's worth it to invest in a prepaid travel plan. Although it depends on your specific travel situation, the short answer is yes.
Besides saving on data roaming with your primary cell phone plan and only paying for the a la carte services you need, a prepaid plan provides flexibility when traveling for business, vacation, or other reasons.
A tech-savvy traveler may purchase a 1GB plan with 60 minutes of talk when going to an indoor business conference with 24/7 Wi-Fi connectivity. But this same traveler may opt for an unlimited talk, text, and data package when traveling with their family on vacation.
One caveat of prepaid travel plans is that they don't offer the fast Internet speeds you typically receive with a postpaid plan. Customers who use these plans typically rely on Wi-FI for large downloads or streaming content to avoid using up their data.
Additionally, depending on the prepaid plan you choose, you may be confined to a specific recharge cycle that doesn't allow you to add more data until a certain amount of time has passed, such as 30 days with most plans.
Regardless, finding the right prepaid travel plan for your needs can reduce the stress that comes with roaming on your primary cellphone plan.
Prepaid Phone Plans with eSIM from Maya Mobile
Today, some plans still require customers to install a new SIM card with the purchase of a prepaid service plan. However, this isn't the case with eSIM technology.
At Maya Mobile, our flexible prepaid data plans use eSIM, so there's no need to take out your SIM card before you travel or after you arrive at your destination. All you have to do is activate your purchased Maya Mobile eSIM on an eSIM-enabled phone, after which you can call and text as you normally would on your primary phone plan. Then, you can access the Internet for the entirety of your travel using Maya Mobile's eSIM data. There are also other added benefits of eSIM for travel.
Our prepaid plans also provide fast, reliable data and allow you to connect to 4G and 5G networks in any country you visit. Since our plans are flexible, you can opt for a pay-as-you-go plan or pay for data monthly, just like with your primary phone plan.
Check out our prepaid travel plans to learn more about fast eSIM data connectivity.
Sources:
Money Crashers. Prepaid vs. Contract Cell Phone Plans – Differences, Pros & Cons. https://www.moneycrashers.com/prepaid-contract-cell-phone-plans/