Enable
fast

and

secure mobile internet

for your team

Global Coverage
No more insecure Wi-Fi. Provide your team with mobile internet in 194 countries the moment they step off the plane.
Wi-Fi Hotspot
Increase productivity on-the-go by sharing mobile data from eSIM compatible phones to laptops or tablets.
Keep Your Numbers
No carrier switching or phone number porting is required. Keep your regular SIM cards installed to use when needed.
Safe and Secure
Our Business eSIMs provide unmatched security for all your mobile devices, even while roaming across networks. Learn more
Simple,
stress-free

business pricing
90% Lower Roaming Costs
We help thousands of travelers save on international roaming every day, and our service for businesses is no different.
Usage-based Billing
Create Data Pools to share data between eSIMs, and pay only for the data consumed.
No Monthly Minimum
No subscription fee, no monthly minimum, and no contract, so you can add or remove eSIMs for your business as needed.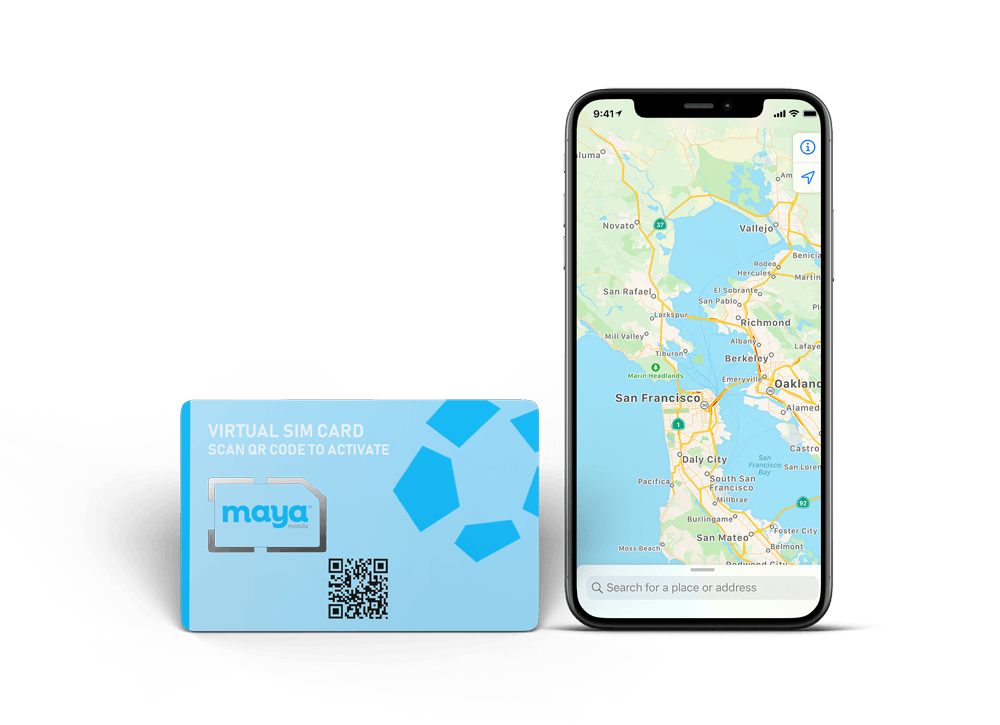 185+

connected networks in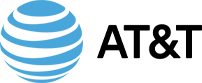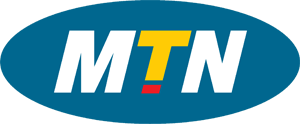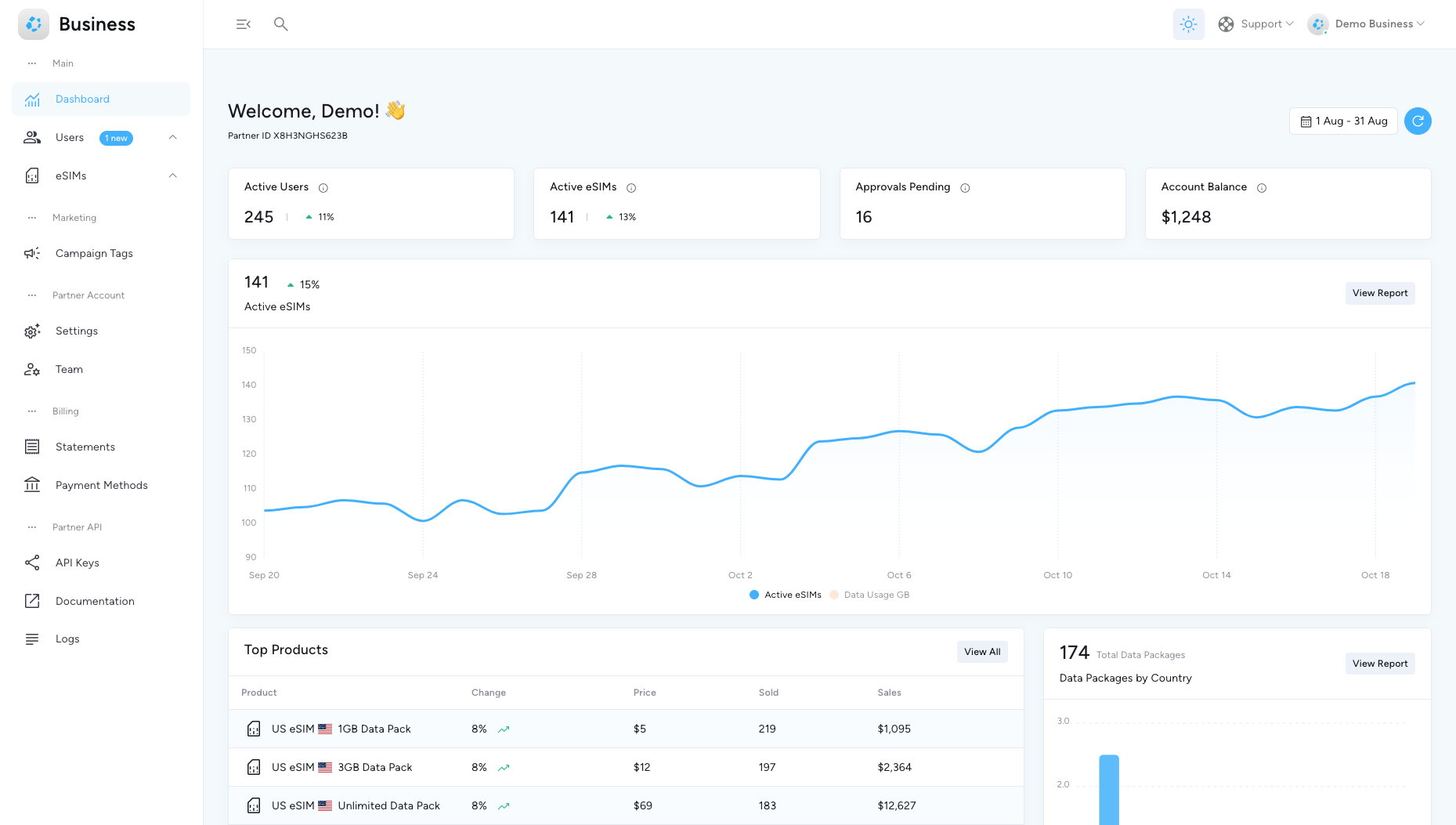 Your Business eSIM


Roaming Dashboard

Your connectivity command center, with everything you need in one place. Create eSIMs and Data Pools, manage Users, and check data usage at any time.

Data Pools with Cost Limits

24/7/365 Customer Service
Business Roaming FAQs
Frequently asked questions
Your data is always yours and will never be shared. We utilize enterprise security standards to securely store and process all user data. As required by law, we keep records containing only the time, data (Megabytes) consumed, and cellular provider of each data connection.
We ask for your legal company name, URL, and country of incorporation. This is usually verified and approved in 1-2 business days, but feel free to
contact us
if you need connectivity sooner.
Yes, we can create custom international roaming profiles and data packages to suit your requirements.
Contact us
if you'd like more info about your specific requirement.
After creating an eSIM in the Business Dashboard, we will send an email with activation instructions to the assigned user. They can install their eSIM with a QR code or a manual activation code entered into their phone settings. Or, you can provide the activation code to them manually.
Most newer smartphones, as well as iPads, and many other devices are now eSIM ready. Check the
eSIM Device List
to see if your devices are compatible.
Our Business eSIM service includes mobile data only, so you don't need to manage new phone numbers. You can continue using your existing numbers to make calls and texts on the eSIM data connection.
We charge a
fixed rate per megabyte consumed
for each eSIM in your account. There are
no extra
subscription fees or minimums.
These rates, as well as real-time data usage per eSIM, are available in your Business Dashboard to review at any time.
Please feel free to
contact us
for an estimate based on your expected usage and business roaming destinations!
When you create a Data Pool in the Business Dashboard, you choose a Data Limit for each roaming location. This is the maximum amount of data that your eSIMs will be able to use.

The Data Pool is only a cost management tool, and there is no monthly minimum spend. You can check your account's real-time data usage and costs in the Business Dashboard at any time.
Yes, you can set traffic policies and limits for individual eSIMs. Each eSIM can be assigned an unlimited, throttled, or fixed data limit, as needed.
Yes! Your users can contact us directly for help. We are available 24/7, in every timezone.
Connect with us
Tell us about your roaming connectivity requirements, and we will provide the best solution possible.
Ready to get started?
Sign up for a free Maya Mobile for Business account with unlimited eSIMs. No payment is due until you start using data.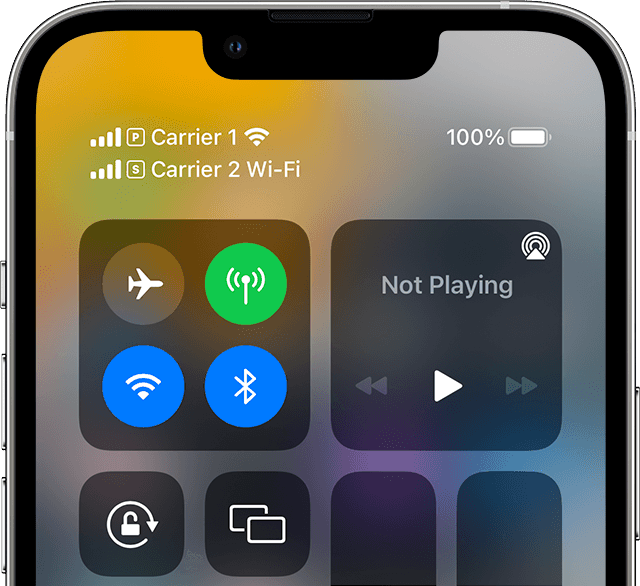 Ready to get started?
Sign up for a free Maya Mobile Business account with unlimited eSIMs. No payment is due until you start using data.